Have your colleagues or members been cooped up in the office wa-a-ay too long?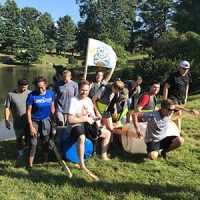 Does your team have a lot of new members?
Have you gone through downsizing? A merger? A particularly tough economic downturn?
Has your group or company just lost or added a key management person?
If you answered "yes" to any (or all!) of those questions, you could definitely use some more IQ – as in one of Inner Quest's Team Building Workshops!
These workshops operate on a simple proposition that management research has borne out time after time: that a company's employees or a club's members work better when they collaborate instead of compete.
IQ Team-building Workshops Combine These Great Elements
One to five days of entertaining, problem-solving, communication-encouraging activities
The Great Outdoors
Usually a great Inner Quest Challenge Course
And Inner Quest's great track record for helping groups get on track emotionally and motivationally!
…and deliver these great benefits
Participants become more aware of their strengths and potential
Individuals transcend self-imposed limits
Groups develop sophisticated cooperation skills
…by meeting these beneficial objectives
Build teamwork and problem-solving skills.
Enhance self-awareness and self-confidence
Complete graduated challenges
Developing trust
Flexible Workshops:
Inner Quest's experienced program planners can create a workshop tailored to your needs. Our flexibility makes us uniquely adept at developing a workshop to fit your organization's specific goals. Workshops can be prepared as personal skill training, intero-rganizational communication and coordination development, and small group trust and teamwork just to name a few. Activities and programming can also be presented to slot your organizations curriculum or training program.
Workshops are usually presented at one of our ropes course facilities but can also be designed to be conducted at a clients headquarters depending on the size and configuration of your facility."
Who can take advantage of an IQ Team building workshop
Almost any group! Every year Inner Quest team-building programs involve more than 8,000 participants in cooperation with more than 200 schools, colleges and businesses. In the past Inner Quest has provided team building activities for:
Many leading corporations (including a number of Fortune 500 companies)
Many not-for-profit organizations, associations and clubs
Hundreds of state, local, and federal managers and employees
The IQ Staff
Inner Quest's professional experiential educators and trainers are deeply committed to outdoor programming and adventure learning. Our Staff receives demanding and ongoing training in safety and outdoor skills as well as leadership and group facilitation skills. Safety is paramount and our professionals closely supervise all activities.
How the Team-building Workshop will Accomplish your objectives.
Additional specific objectives can be addressed as part of IQ's workshops. We work with a client facilitator to make sure these work with the organization's internal objectives.
Here are some possible objectives:
Avoid performance inhibiting behavior
Make timely decisions
Establish priorities and create action plans
Employ various leadership styles
Cope with stressful situations
Provide an model of collaborative work team performance
Evaluate participants' priorities and goals
Receive feedback constructively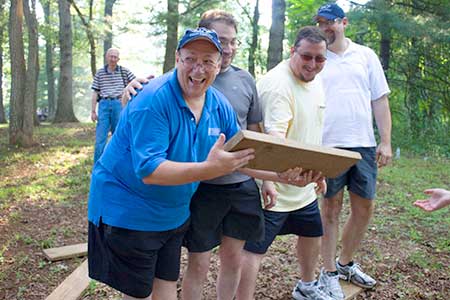 The IQ Challenge Course
Simply put, our IQ Challenge Course is an exciting way to help a participant discover more about him or herself and other team members. "It was the funnest day of my life!", remarked a recent Workshop participant even though she was exhausted. Working with others to complete challenging tasks had delivered exhilaration and a sense of satisfaction she had rarely known.
A Few Example Activities
Participants are divided into 8 to 10 person Learning Teams. Small groups maximize learning potential for participants. Inner Quest determines final course content in coordination with the client, but here are some initial activates that could be used for your groups Workshop:
Name Game is an "ice breaker" used to let participants and instructors learn each others' names and to set the atmosphere of fun and learning that will be used throughout the seminar.
Spotting Circle teaches the skill of spotting necessary to insure safety and illustrates the need for Team trust as well as the concept of building a support network.
Trust Fall reinforces and further illustrates the concepts introduced in the Trust Circle. In this activity, additional perceived risk adds drama to the application of skills already learned.
All Aboard is the team's first attempt at solving a problem. Everyone must occupy a small platform at the same time. The concepts of identifying the problem, effective brainstorming, resource assessment, achieving consensus, experimentation and teamwork in execution of a solution are introduced.
Problem-solving Initiatives
Spider's Web is a more complex problem solving task stressing the need for effective planning and resource utilization. The entire team must get through a huge simulated spider's web without touching any part of the web.
Tension Traverse requires each participant to cross a "tight wire". Self-imposed limits are challenged and the need for a support network is reinforced as the team provides support and safety.
Blind Alligator is a simple initiative complicated by the addition of several blindfolded participants. The entire team must traverse a "swamp" using a limited number of boards as their only resources.
Blind Polygon continues stressing the need for effective communication and leadership in team interaction. Here the entire team is blindfolded as they attempt to efficiently form a given polygon shape.
Advanced Problem-Solving Initiatives
Egg Drop is the ultimate psychological team problem- solving challenge. The team has to solve several separate problems and brainstorm to design a delivery system for their egg. A raw egg has to be packaged with limited materials and dropped to the ground from a given height without breaking!
The Wall is the ultimate physical team problem solving activity. This "graduation" exercise will challenge the entire group (all three teams will combine to form one large team) to problem solve and work together to scale a 12 foot wall safely. All of the concepts introduced earlier will be used and reinforced again.
Individual challenges:
The Zipwire is a series of high activities where the participant has the opportunity to challenge his/herself by traversing a cable bridge to a platform high in a tree and then ride a pulley on a cable approximately 500 feet across a ravine and back to the ground. Each participant is connected to safety systems at all times and is closely supervised by IQ Staff. The challenge is more psychological than physical and allows an opportunity to stretch one's self-imposed limits.
Complex Activities
The Toxic Dump is a sophisticated puzzle requiring efficient and effective problem-solving for success. Teamwork is imperative and success is not necessarily guaranteed as the team attempts to retrieve "toxic waste" while crossing a chasm by building a series of ramps.
Beam Walk imposes a maze of beams and electric wires that the group must successfully maneuver through to gather, transport, and redistribute materials to achieve the highest possible score. Decision-making and team support are key in accomplishing this demanding assignment.
Search and Rescue requires navigation using a map and compass to find and rescue an "injured hiker" who has been lost in the wilderness. Efficient evaluation and use of group resources is the key to success.
IQ Teambuilding: The Final Word
What's more…
Depending as to length and specific goals of the programs, the IQ Team-building Workshop might also include outdoor living skills, orienteering, canoeing, caving, rock climbing and rappelling.
Why ask Inner Quest to help build your team?
Inner Quest is fully insured and licensed and is an active member of both the Association for Experiential Education and the Virginia Council for Outdoor Adventure Education. We are an experienced experiential training organization encouraging professional development through the use of Safe, Challenging Adventure. So contact us now and give something back to your team!